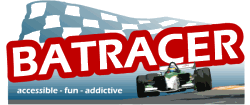 if you're a fanatical f1 fan (or any other racing series fan) and you enjoy the details of racing such as f1's "live timing" then you'll find this web browser based game to be very enjoyable and satisfying, especially during the very long breaks between races.
basically batracer is only a little similar but way better than other ordinary fantasy manager games, as you take part as the driver in setting up the car for optimum settings during the practice and warmup periods before the qualifying sessions and the race. for the qualifying and the race itself you play around with the settings for how you want to run your race including speed, aggresiveness, tyre usage and pit stop strategies etc and then your results are generated with detailed lap by lap informatoin and analysis after the session has advanced. this entails you to further refine your setups and strategies for following races to be as competitive as possible.
apart from f1 2008, there are also other car sets available such as f1 2007, f1 2006, f1 2002, f1 1986, champcars, lemans edurance series, a1gp, btcc, v8 supercars and several other fictional series so you are no doubt going to be able to find a series that you'll enjoy playing.
so follow the link below and click on register to begin racing against almost 100,000 players:
http://batracer.com/-1FrontPage.htm?NKj
cheers

Turbo Charged

Posts: 240
Joined: 03 Mar 2005, 08:06
Location: sydney, australia
---
ok guys i just joined a new public game, full season of f1 2008 and there's 4 spots remaining before the game starts so join in and if you need any help i could show you the ropes etc. game number is 31636 cheers
Turbo Charged

Posts: 240
Joined: 03 Mar 2005, 08:06
Location: sydney, australia
---
Im Playing that game right now also how long have you been playin? Ive been a memeber since last year but only really got into it this summer so im still new to somethings Im in to games right now and have a public spot open so I might join in on the f1 2008 game even tho im more into BTCC games. My screenname is 24fan4life if you wanna look me up see ya

_______________________________________________________________________________
CMUSCLE1
Turbo Charged

Posts: 79
Joined: 27 May 2008, 07:36
Location: Washington,Usa
---
lol heya yeah i've been playing for about 2-3months now and my username as the same as here ie 93360

just finished that game i advertised about a month ago and here are the results:

neways gonna take a break from it for a few weeks while i get my final exams done etc
hope to see you and others around!

Turbo Charged

Posts: 240
Joined: 03 Mar 2005, 08:06
Location: sydney, australia
---
---
Who is online
Users browsing this forum: No registered users and 2 guests